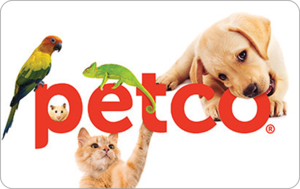 Petco Gift Card (Email Delivery)
Shop for all your pet's needs with the Petco Gift Card. From food and toys to grooming and healthcare, Petco has everything to keep your furry friends happy and healthy. Purchase or gift this card to fellow pet lovers and enjoy the convenience of online and in-store shopping at Petco. Find the perfect present for your pets and pet-loving friends today with the Petco Gift Card.
Welcome to the world of Petco Gift Cards! At Petco, we understand that pets are family, and we're here to provide everything they need for a happy, healthy life. Our Petco Gift Card is the perfect way to show your love for pets, whether you're a pet parent or want to treat someone special. With the Petco Gift Card, you can explore our wide range of pet products, from premium food and treats to toys, accessories, grooming essentials, and even veterinary care services. Whether you have a playful pup, a curious cat, or any other furry, feathered, or scaly friend, Petco has you covered. Our gift card is a versatile choice, valid for both in-store shopping at any Petco location and convenient online purchases through our website. Plus, you can easily check your card balance online, ensuring a hassle-free shopping experience. Give the gift of Petco today and let pet lovers celebrate their companions in style. Whether it's a birthday, holiday, or just to say "I love you" to your four-legged friends, the Petco Gift Card is the perfect choice. Shop now and make tails wag and whiskers twitch with joy!
How do I purchase a Petco Gift Card?
To purchase a Petco Gift Card, simply visit the official Petco website or head to your nearest Petco store. You can buy physical gift cards in-store, or if you prefer the convenience of online shopping, you can purchase eGift cards on their website. Whether it's for a special occasion or a thoughtful gesture, Petco Gift Cards make an ideal present for pet lovers. Get one today and treat your loved ones to a world of pet care and supplies.
Where can I use my Petco Gift Card for purchases?
You can use your Petco Gift Card for purchases at any Petco store location, as well as for online shopping on the official Petco website. Whether you need pet food, toys, grooming supplies, or any other pet-related products, your Petco Gift Card gives you the flexibility to shop in-store or from the comfort of your home. Make your pet's day or surprise a fellow pet lover with the gift of choice from Petco.
Can I reload or add funds to my Petco Gift Card?
No, currently Petco does not offer the option to reload or add additional funds to their gift cards. Once you've used the balance on your Petco Gift Card, you can simply dispose of it responsibly or keep it as a memento of your pet-related purchases. Be sure to check your card balance before making a purchase to ensure you have sufficient funds to cover your desired items for your beloved pets.
Is there an expiration date for Petco Gift Cards?
No, Petco Gift Cards typically do not have expiration dates. You can use your Petco Gift Card at your convenience, without worrying about it expiring. Whether you're shopping for pet food, toys, or any other pet-related items, your Petco Gift Card will remain valid until you've used up the balance on it. This means you can take your time to find the perfect products for your furry friends and enjoy the flexibility of using your gift card whenever you need it.
How can I check the balance on my Petco Gift Card?
To check the balance on your Petco Gift Card, you can visit the Petco website and navigate to the "Gift Cards" section. From there, you'll find a convenient balance check option where you can enter your card details to get the current balance information. Alternatively, you can also check the balance by visiting a Petco store near you and asking a friendly store associate for assistance. Knowing your gift card balance allows you to make informed decisions while shopping for your beloved pets, ensuring they get the best care and products they deserve.
Can I use my Petco Gift Card for online orders?
Yes, you can use your Petco Gift Card for online orders. Petco offers a seamless online shopping experience, and when you're ready to check out, simply enter your gift card information as a payment method. This makes it convenient for pet owners to shop for their furry friends' essentials and treats from the comfort of their homes, while also taking advantage of the value provided by their Petco Gift Card. It's a hassle-free way to ensure your pets get the products and care they need, whether in-store or online.
What should I do if my Petco Gift Card is lost or stolen?
If your Petco Gift Card is lost or stolen, it's crucial to take action promptly. First, contact Petco's customer service or visit a nearby Petco store and provide them with any relevant information about the card, like the card number or purchase receipt, if available. They can help you with the necessary steps to protect the remaining balance or potentially issue a replacement card if applicable. Acting swiftly can help safeguard the value of your gift card and ensure you can continue providing the best for your beloved pets.
The merchants represented are not sponsors of the rewards or otherwise affiliated with Earn and Trade. The logos and other identifying marks attached are trademarks of and owned by each represented company and/or its affiliates. Please visit each company's website for additional terms and conditions.