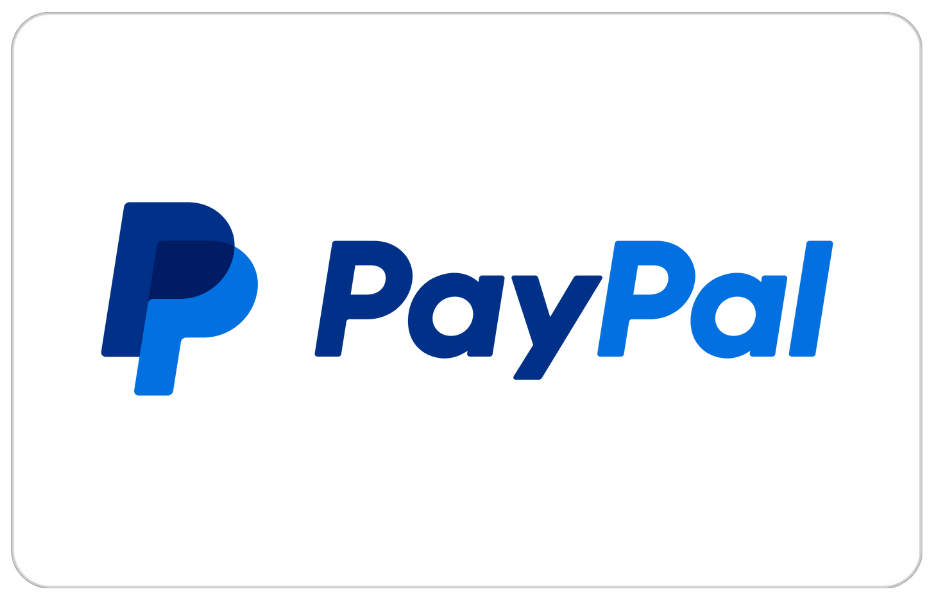 Paypal Gift Card (Email Delivery)
Enjoy the convenience of online payments and transactions with a PayPal Gift Card. As a leading digital wallet, PayPal allows you to securely send and receive money, make purchases, and manage your finances online. Whether you're shopping online or sending money to friends and family, a PayPal Gift Card provides a seamless and secure payment experience. Simplify your online transactions with PayPal.
How to Sign Up for a PayPal Account
To sign up for a personal PayPal account, go to the PayPal website and click the "Sign Up" button. Choose the "Personal Account" option and fill out the form with your personal information, including your name, address, and email address. You will also need to create a password and link a payment method to your account, such as a credit or debit card or a bank account. Once you have verified your email address, your account will be created, and you can start using PayPal to send and receive payments for free.
Yes, PayPal is free to use for personal transactions such as sending money to friends or family. There are no fees charged for sending or receiving money as long as it is funded by a PayPal balance, bank account or debit card. However, if the transaction involves converting currency or using a credit card, there may be applicable fees. Additionally, PayPal charges fees for business transactions such as receiving payments for goods or services. Overall, PayPal is a convenient and cost-effective way to send money online.
How long does it take for Earn and Trade to send Paypal payments
If you're wondering how long it takes for Earn and Trade to send PayPal payments, the process typically takes up to 24-48 hours. After you've accumulated a minimum of $5 in points, you can transfer your earnings to your linked PayPal account. Once the transfer is initiated, it usually takes around one to two business days for the payment to arrive in your PayPal account.
What are the best tips for maximizing the benefits of using PayPal for online shopping and transactions?
If you want to maximize the benefits of using PayPal for online shopping and transactions, there are some best tips to follow. Firstly, link your PayPal account to a credit card to get additional fraud protection and to earn rewards points. Secondly, always review your transactions and report any suspicious activity to PayPal immediately. Thirdly, take advantage of PayPal's buyer protection program to ensure that you are protected against fraud or misrepresentation. Lastly, sign up for PayPal's rewards program to earn points that you can redeem for discounts and cash back. By following these best tips, you can enjoy the many benefits of using PayPal for your online transactions.
How can I find the best deals and discounts when using PayPal for online transactions?
To find the best deals and discounts when using PayPal for online transactions, you can start by browsing PayPal's Deals section on their website. This section lists various offers and promotions from different merchants that accept PayPal as a payment method. You can also sign up for PayPal's email alerts to receive notifications about exclusive discounts and promotions for PayPal users. Additionally, you can check out online coupon websites and social media pages of your favorite merchants to find special offers and coupon codes that can be applied when paying with PayPal.
The merchants represented are not sponsors of the rewards or otherwise affiliated with Earn and Trade. The logos and other identifying marks attached are trademarks of and owned by each represented company and/or its affiliates. Please visit each company's website for additional terms and conditions.