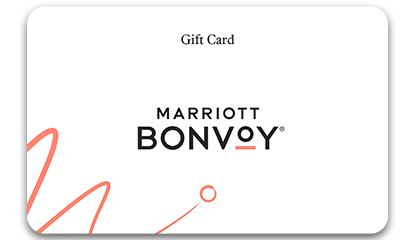 Marriott Gift Card (Email Delivery)
Elevate your travel experiences with a Marriott Gift Card. Discover comfort, luxury, and exceptional hospitality at Marriott's global network of hotels and resorts. Whether it's a relaxing getaway, business trip, or special occasion, our gift card opens the door to memorable stays. Redeemable at over 7,000 locations worldwide, it's the perfect present for avid travelers or a treat for yourself. Start your journey with Marriott and create lasting memories. Get your Marriott Gift Card today and explore a world of hospitality, convenience, and comfort.
About a Marriott Gift Card
Welcome to the world of extraordinary travel experiences with the Marriott Gift Card. For over 90 years, Marriott International has been synonymous with exceptional hospitality, offering a diverse portfolio of over 30 hotel brands, including Marriott, Sheraton, Westin, and more, spanning across 135 countries. Our gift card is your gateway to luxurious accommodations, memorable stays, and unparalleled service. With the Marriott Gift Card, you can explore the world in style, from iconic city centers to exotic beachfront destinations. Whether it's for a romantic getaway, a family adventure, or a business trip, our gift card is the perfect choice. Redeemable at over 7,000 participating locations worldwide, it provides you with the freedom to choose your ideal travel experience. Treat your loved ones or yourself to the joy of travel and relaxation. Purchase your Marriott Gift Card today and embark on a journey filled with discovery, comfort, and unforgettable moments. Experience the Marriott difference and let us be your partner in creating cherished travel memories.
How can I purchase a Marriott Gift Card?
Purchasing a Marriott Gift Card is simple and convenient. You can acquire one through various channels: visit Marriott's official website to order online, buy directly at a Marriott hotel or resort, or obtain one from authorized retailers. Online, explore the 'Gift Cards' section, select your preferred design and denomination, and follow the prompts to complete your purchase. Whether it's for a weekend getaway, a dream vacation, or a thoughtful gift, a Marriott Gift Card opens the door to exceptional hospitality and memorable stays. Get yours today and start planning your next travel adventure with confidence.
Where can I use my Marriott Gift Card?
You can use your Marriott Gift Card at over 7,000 participating Marriott International hotels and resorts worldwide. Whether you're planning a city escape, beachside retreat, or a business trip, your gift card provides access to Marriott's diverse portfolio of brands and destinations. Enjoy the convenience of redeeming your card at Marriott properties spanning across 135 countries. Treat yourself or your loved ones to luxurious accommodations and exceptional hospitality. With a Marriott Gift Card, the world of travel is at your fingertips, ensuring unforgettable experiences and memorable stays wherever your adventures take you.
Can I check the balance on my Marriott Gift Card?
Certainly! Checking the balance on your Marriott Gift Card is quick and easy. Simply visit Marriott's official website and navigate to the 'Check Your Balance' page. There, you can enter your gift card details to receive an instant update on your available balance. This feature ensures you're always informed about your funds, making it convenient to plan your next Marriott adventure with confidence. Enjoy the peace of mind that comes with monitoring your gift card balance effortlessly and continue creating cherished travel memories with Marriott.
Is there an expiration date for Marriott Gift Cards?
No, Marriott Gift Cards do not have an expiration date. You can take your time and plan your trips at your own pace, without worrying about your gift card losing its value. Whether you're preparing for a vacation, a weekend getaway, or a special occasion, your Marriott Gift Card remains valid indefinitely. This ensures that you have the flexibility to use it whenever and wherever you desire, making it a truly versatile and convenient travel companion. Explore the world with confidence, knowing that your Marriott Gift Card will always be ready to enhance your travel experiences.
Can I reload or add funds to my Marriott Gift Card?
Marriott Gift Cards are designed for one-time use, and additional funds cannot be added or reloaded onto an existing card. However, you can conveniently purchase new Marriott Gift Cards at any time through Marriott's official channels, whether it's online or in person at Marriott hotels and resorts. This allows you to continue exploring the world with ease, enjoying luxurious accommodations, and creating memorable travel experiences. With a fresh Marriott Gift Card in hand, you're always ready to embark on new adventures and discover the exceptional hospitality that Marriott is known for.
Can I use my Marriott Gift Card for online reservations?
Yes, you can use your Marriott Gift Card for online reservations when booking your stay at Marriott hotels and resorts through the official Marriott website. During the online reservation process, simply enter your gift card details, and the available balance will be applied to your booking. This convenient feature allows you to plan your travel from the comfort of your own home while enjoying the benefits of your gift card. Whether you're scheduling a business trip or a leisurely vacation, using your Marriott Gift Card online ensures a seamless and hassle-free reservation experience. Explore Marriott's world-class accommodations and make the most of your travel plans with ease.
The merchants represented are not sponsors of the rewards or otherwise affiliated with Earn and Trade. The logos and other identifying marks attached are trademarks of and owned by each represented company and/or its affiliates. Please visit each company's website for additional terms and conditions.