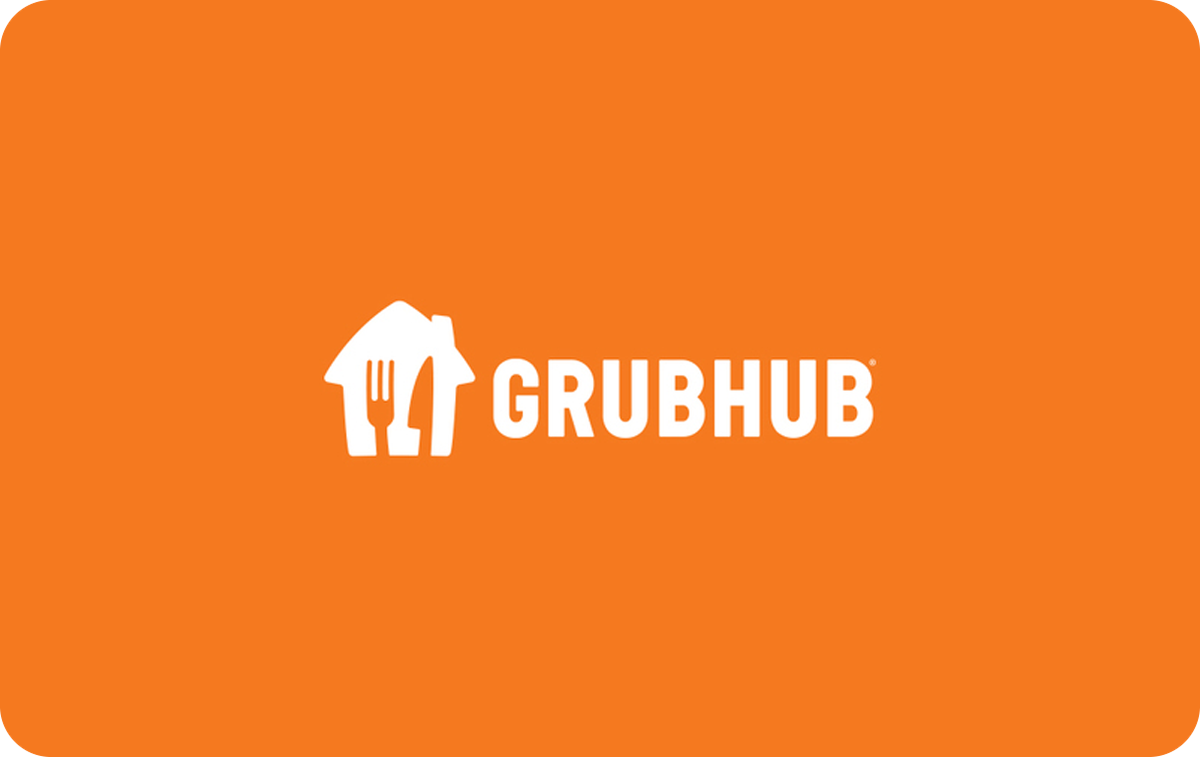 GrubHub Gift Card (Email Delivery)
Satisfy your cravings with a Grubhub Gift Card. Order your favorite food from local restaurants and have it delivered right to your door. With a vast selection of cuisines and eateries to choose from, you'll find something to please every palate. Give the gift of convenience and delicious meals with a Grubhub Gift Card today. Perfect for busy days or special occasions, it's a delightful way to enjoy a wide range of dining options. Get yours now and start enjoying tasty dishes hassle-free!
About a GrubHub Gift Card
Discover the ultimate dining experience with a Grubhub Gift Card. Whether you're a foodie or simply craving your go-to comfort food, Grubhub brings the culinary world to your doorstep. With access to a vast network of local restaurants and diverse cuisines, you can explore new flavors or savor your favorite dishes—all from the comfort of your home. Perfect for busy weekdays, lazy weekends, or special occasions, the Grubhub Gift Card offers convenience, variety, and mouthwatering delights. Ordering is a breeze, and the satisfaction of enjoying your preferred meals without the hassle of cooking or dining out is priceless. Treat yourself or surprise a loved one with the gift of culinary choice and convenience. Get your Grubhub Gift Card today and embark on a delicious journey of flavors and options!
What is a Grubhub Gift Card, and how does it work?
A Grubhub Gift Card is a convenient way to enjoy delicious meals from your favorite restaurants. It works by providing you with a prepaid balance that can be used to order food through the Grubhub app or website. Simply redeem the card by entering the unique code during checkout, and the card's balance will cover the cost of your meal. It's a perfect gift for food lovers, allowing them to explore a wide range of cuisines and dining options from the comfort of their own homes. Grubhub Gift Cards are a tasty and hassle-free way to treat yourself or surprise someone with a delightful dining experience.
Where can I purchase a Grubhub Gift Card?
You can purchase a Grubhub Gift Card online through the official Grubhub website. It's a convenient way to gift the joy of delicious food delivery to your friends, family, or loved ones. These gift cards are available in various denominations, allowing you to choose the perfect amount to treat someone to a meal from their favorite local restaurants. Whether it's for a special occasion or a simple gesture of kindness, Grubhub Gift Cards are easily accessible and a delightful way to share the joy of food.
Do Grubhub Gift Cards have an expiration date?
Grubhub Gift Cards typically do not have an expiration date. They are designed to be a convenient and flexible way to enjoy food delivery from a wide range of restaurants at your own pace. This means that recipients can use their Grubhub Gift Cards whenever they're ready to savor a delicious meal. However, it's always a good idea to double-check the terms and conditions, as policies may vary over time and by region. Rest assured, though, that these gift cards are a tasty and thoughtful present that can be enjoyed without the pressure of a looming expiration date.
Can I use my Grubhub Gift Card for online food orders?
Yes, you can absolutely use your Grubhub Gift Card for online food orders. Grubhub offers a user-friendly online platform and mobile app that allows you to order food from a variety of restaurants in your area. When you have a Grubhub Gift Card, you can apply the balance to your online order, making it a convenient and delicious way to enjoy a meal from your favorite local eateries. Whether you're craving pizza, sushi, or anything in between, your Grubhub Gift Card gives you the flexibility to satisfy your taste buds with ease.
How can I check the balance on my Grubhub Gift Card?
To check the balance on your Grubhub Gift Card, you can visit the official Grubhub website or use their mobile app. Simply log in to your account, navigate to the payment section, and enter your gift card information. Grubhub makes it easy to keep track of your card balance, ensuring that you can enjoy your favorite meals with confidence and convenience.
Can I reload or add more funds to my Grubhub Gift Card?
Unfortunately, Grubhub does not currently offer the option to reload or add more funds to their gift cards. However, you can continue to enjoy the convenience of ordering delicious meals from a wide range of restaurants using your existing gift card balance. Grubhub's extensive network of food delivery and pickup options ensures you'll have plenty of choices to satisfy your cravings.
What should I do if my Grubhub Gift Card is lost or stolen?
If your Grubhub Gift Card is lost or stolen, it's important to act quickly to protect your balance. Contact Grubhub's customer support as soon as possible to report the loss. They can assist you in deactivating the lost card and potentially issuing a replacement, depending on the circumstances. Be prepared to provide any necessary information, such as the gift card number and purchase details, to help with the process. Prompt reporting ensures that your gift card balance remains secure, and you can continue to enjoy delicious meals from your favorite restaurants.
The merchants represented are not sponsors of the rewards or otherwise affiliated with Earn and Trade. The logos and other identifying marks attached are trademarks of and owned by each represented company and/or its affiliates. Please visit each company's website for additional terms and conditions.