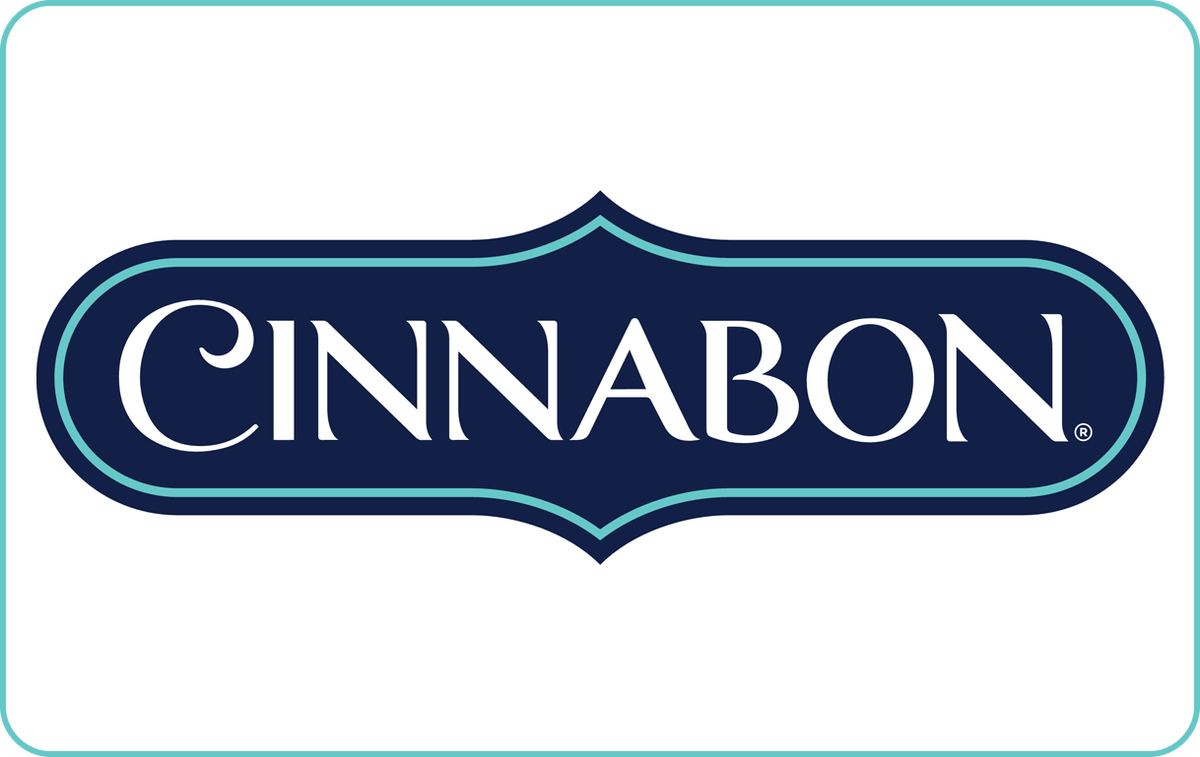 Cinnabon Gift Card (Email Delivery)
Satisfy your sweet tooth with Cinnabon Gift Cards. Indulge in the irresistible aroma and flavors of freshly baked cinnamon rolls at Cinnabon. Perfect for dessert lovers, our gift cards offer a taste of gooey, cinnamon goodness. Share the joy of sweet treats with loved ones or treat yourself to a warm, delectable pastry. Cinnabon Gift Cards make every bite a delight. Order now and experience the ultimate cinnamon roll bliss!
About a Cinnabon Gift Card
Experience the unparalleled joy of freshly baked cinnamon rolls with Cinnabon Gift Cards. Cinnabon is a beloved bakery that has been delighting taste buds for decades with its signature cinnamon rolls, offering a delightful blend of warmth, sweetness, and indulgence. A Cinnabon Gift Card is your passport to a world of delectable treats. Whether you're craving the classic Cinnabon roll or one of their delightful variations, our gift cards allow you to savor the mouthwatering flavors that Cinnabon is renowned for. Share the bliss of these sweet delights with friends and family, or simply treat yourself to the comforting embrace of a warm Cinnabon pastry. Redeemable at Cinnabon locations nationwide, our gift cards ensure that you can enjoy the unparalleled taste of Cinnabon whenever the craving strikes. Order your Cinnabon Gift Card today and let the cinnamon-scented journey begin!
How Can I Purchase a Cinnabon Gift Card Online?
To purchase a Cinnabon Gift Card online, simply visit the official Cinnabon website or app. Navigate to the "Gift Cards" section, where you can choose the card's design, select the desired amount, and add it to your cart. Proceed to checkout, providing your payment information and shipping details. Once the purchase is complete, you'll receive your Cinnabon Gift Card via email or mail, depending on your preference. Enjoy the convenience of gifting or treating yourself to delicious Cinnabon treats with just a few clicks online.
Do Cinnabon Gift Cards Expire?
Cinnabon Gift Cards typically do not have expiration dates. They are designed to provide you with the flexibility to enjoy those irresistible cinnamon rolls and treats at your own pace. This means you can savor the sweetness of Cinnabon whenever you desire, without worrying about your gift card losing its value due to expiration. It's a delightful way to indulge in your favorite Cinnabon goodies, and you can keep your card until you're ready to treat yourself or someone special.
Can I Check My Cinnabon Gift Card Balance Online?
Yes, you can conveniently check your Cinnabon Gift Card balance online. To ensure you always know how much sweetness is left on your card, simply visit the official Cinnabon website and navigate to the gift card balance check page. There, you can input your card details and get an instant update on your remaining balance. This feature allows you to plan your next delightful visit to Cinnabon or even send the perfect gift to a fellow Cinnabon lover with confidence, knowing the exact value of your card.
Can I Use My Cinnabon Gift Card for Online Orders?
Currently, Cinnabon primarily operates in physical store locations, so the use of Cinnabon Gift Cards is generally limited to in-store purchases. While you can't use your Cinnabon Gift Card for online orders directly, you can enjoy the delectable treats in person at one of their many locations. Be sure to check with Cinnabon for any updates or changes in their gift card policies, as they may expand their online offerings in the future.
Can I Redeem My Cinnabon Gift Card at Any Cinnabon Location?
Yes, you can typically redeem your Cinnabon Gift Card at any Cinnabon location within the United States. Cinnabon operates numerous stores across the country, making it convenient to enjoy their delicious cinnamon rolls and other treats. However, it's always a good idea to verify with the specific Cinnabon store you plan to visit to ensure they accept gift cards, as policies can vary slightly between locations. So, whether you're craving a classic cinnamon roll or another tasty delight, your Cinnabon Gift Card should be welcomed at most Cinnabon outlets.
What Should I Do If My Cinnabon Gift Card Is Lost or Stolen?
If your Cinnabon Gift Card is lost or stolen, it's crucial to take action promptly to protect your balance. First, contact Cinnabon's customer support or visit their website to report the loss. You'll typically need to provide information like the card's original purchase receipt or the card number if you have it. Cinnabon will then work to deactivate the lost card and may assist in transferring your remaining balance to a new one, helping you savor the sweet treats worry-free. Always act quickly to prevent unauthorized use of your Cinnabon Gift Card.
Are Cinnabon Gift Cards Refundable or Transferable to Another Person?
Cinnabon Gift Cards are generally non-refundable and non-transferable. Once purchased, they are intended for personal use or gifting. It's essential to review the terms and conditions provided by Cinnabon regarding their gift cards to understand specific policies. While they make for delightful treats, Cinnabon Gift Cards typically cannot be exchanged for cash or transferred to another individual. Be sure to explore the details to make the most of your sweet experiences at Cinnabon!
The merchants represented are not sponsors of the rewards or otherwise affiliated with Earn and Trade. The logos and other identifying marks attached are trademarks of and owned by each represented company and/or its affiliates. Please visit each company's website for additional terms and conditions.