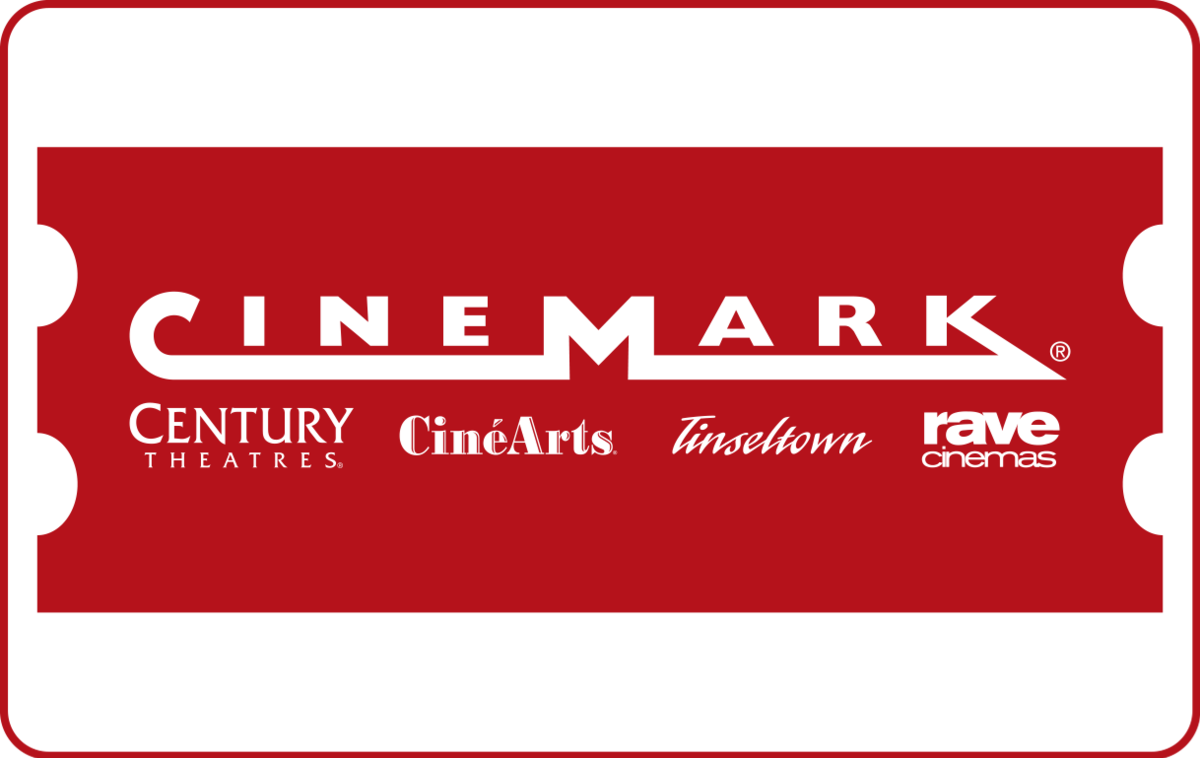 Cinemark Gift Card (Email Delivery)
Elevate your movie experience with Cinemark Gift Cards. Enjoy the latest blockbusters, comfortable seating, and delicious snacks at Cinemark theaters. Ideal for film enthusiasts, our gift cards provide cinematic adventures for all ages. Share the joy of movie nights with loved ones or relish a solo trip to the cinema. Cinemark Gift Cards make every movie moment special. Order now and escape into the world of entertainment!
About a Cinemark Gift Card
Immerse yourself in the world of cinema with Cinemark Gift Cards. Cinemark is a leading name in the entertainment industry, known for delivering exceptional movie experiences to audiences of all ages. A Cinemark Gift Card is your ticket to a world of cinematic wonder. With state-of-the-art theaters, comfortable seating, and a wide selection of films, Cinemark promises unforgettable movie nights. Whether you're celebrating a special occasion, enjoying a family outing, or treating yourself to a solo screening, our gift cards offer flexibility and convenience. Redeemable at any Cinemark location, our gift cards make it easy to enjoy the latest blockbusters, thrilling adventures, and heartwarming stories on the big screen. Share the magic of movies with friends and family or embark on your cinematic journey. Order your Cinemark Gift Card today and let the show begin!
How Can I Purchase a Cinemark Gift Card Online?
Purchasing a Cinemark gift card online is a breeze. Simply visit the official Cinemark website and navigate to the "Gift Cards" section. There, you'll find options to buy both physical and eGift cards. You can customize your gift card with various designs and load it with your preferred amount. After completing your purchase, you can choose to have it delivered digitally via email or physically shipped to your address. It's a convenient way to gift the magic of cinema to your loved ones or yourself, all from the comfort of your computer or mobile device.
Do Cinemark Gift Cards Expire?
Cinemark gift cards offer the gift of entertainment, and the good news is they don't come with an expiration date. Whether you receive one as a gift or purchase it for yourself, you can rest assured that you'll have the flexibility to use it at your own pace. So, feel free to enjoy the latest movies, snacks, and experiences at Cinemark theaters without any worries about your gift card becoming invalid over time. It's a great way to enhance your moviegoing adventures with peace of mind.
Can I Check My Cinemark Gift Card Balance Online?
Yes, you can easily check your Cinemark gift card balance online. Cinemark provides a convenient online balance-checking tool on their official website. By entering the gift card number and PIN, you can access your current balance information, ensuring you always know how much credit you have left for your next cinematic experience. This hassle-free feature allows you to plan your visits and make the most of your gift card without any surprises at the ticket counter or concession stand.
Can I Use My Cinemark Gift Card for Online Ticket Purchases?
Absolutely! You can use your Cinemark gift card for online ticket purchases. Cinemark offers a user-friendly online booking system on their website and mobile app, which allows you to select your preferred movie, showtime, and seats. During the payment process, simply input your gift card number and PIN to apply your card's balance toward the ticket purchase. It's a convenient way to enjoy your favorite films while using the value of your Cinemark gift card for a seamless online booking experience.
What Happens If I Lose My Cinemark Gift Card?
If you happen to lose your Cinemark gift card, don't worry – there's a solution. Cinemark offers a convenient replacement service for lost or stolen gift cards. You can contact their customer support or visit a Cinemark theater location to report the loss. They will assist you in verifying your card's original purchase and balance, and then issue a replacement card with the remaining funds. This ensures that you won't lose the value of your gift card even if the physical card is misplaced. It's a customer-friendly policy that safeguards your movie-watching enjoyment.
Are Cinemark Gift Cards Refundable or Transferable?
Cinemark gift cards are typically non-refundable and non-transferable. Once purchased, they are considered final sale items, and Cinemark generally does not provide refunds for gift card purchases. Additionally, gift cards are usually not transferable to another person's name once they've been issued. It's important to review Cinemark's specific terms and conditions regarding gift cards for any exceptions or updates to their policy. However, in most cases, it's wise to treat your Cinemark gift card like cash, as they are not eligible for refunds or transfers.
Can I Reload or Add More Funds to My Cinemark Gift Card?
Cinemark gift cards are typically not reloadable or designed for adding additional funds once the initial balance has been used. They are often sold with a fixed value and are intended for one-time use until the balance is depleted. If you want to continue enjoying movies at Cinemark, you may need to purchase a new gift card with the desired amount. Please refer to Cinemark's official website or customer service for the most up-to-date information on their gift card policies and any potential changes.
The merchants represented are not sponsors of the rewards or otherwise affiliated with Earn and Trade. The logos and other identifying marks attached are trademarks of and owned by each represented company and/or its affiliates. Please visit each company's website for additional terms and conditions.