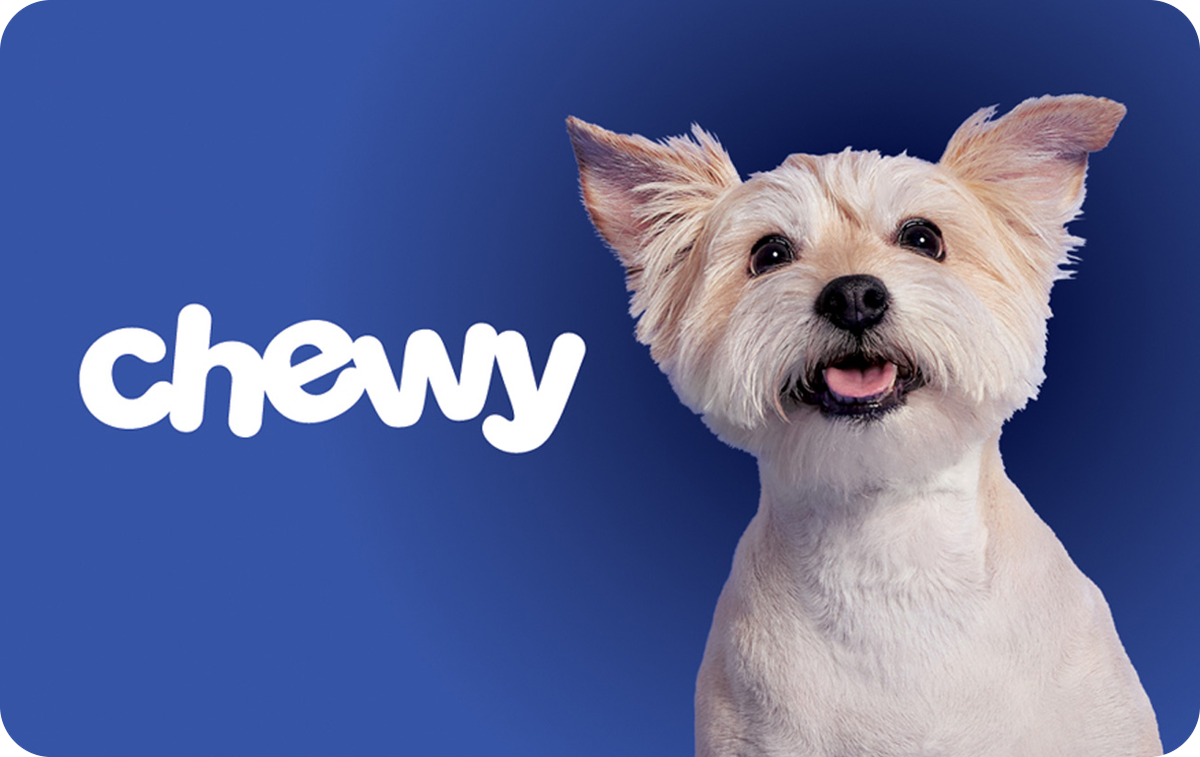 Chewy Gift Card (Email Delivery)
Find the perfect pet products with Chewy Gift Cards. Explore a vast selection of pet food, toys, and accessories for your furry friends. Ideal for pet owners and animal lovers, our gift cards make it easy to spoil your pets or share the joy with others. Chewy Gift Cards offer convenience and quality, ensuring your pets get the best. Order now for a tail-wagging good time!
Discover the world of pet care and pampering with Chewy Gift Cards. At Chewy, we're passionate about pets and committed to providing everything they need to thrive and be happy. A Chewy Gift Card is the perfect way to show your love and appreciation for your furry family members or those of your friends and family. Our extensive selection of pet food, toys, supplies, and more ensures that you can find everything your pet needs in one place. Redeemable online, our gift cards offer convenience and the promise of high-quality products that Chewy is known for. Whether you're caring for dogs, cats, birds, or any other pet, Chewy Gift Cards make pet parenting enjoyable and stress-free. Order yours today and make tails wag with delight!
What is a Chewy Gift Card?
A Chewy Gift Card is a versatile and thoughtful way to treat pet lovers and their furry companions. It functions as a prepaid card that can be used to purchase a wide range of pet supplies, from food and toys to grooming essentials and more. Whether you're celebrating a pet's birthday, expressing gratitude to a pet sitter, or simply looking for a convenient pet-related gift, Chewy Gift Cards provide the flexibility and choice pet owners need to care for their beloved animals. Discover how these gift cards can make pet care more accessible and enjoyable for recipients.
Where can I purchase a Chewy Gift Card?
Chewy Gift Cards can be conveniently purchased from a variety of sources. You can acquire them directly from the official Chewy website, which offers both physical and digital gift card options. Additionally, many retail stores, supermarkets, and online gift card marketplaces may carry Chewy Gift Cards, making it even easier to find the perfect gift for the pet lovers in your life. Whether you prefer the ease of online shopping or the in-person experience, there are numerous avenues to obtain Chewy Gift Cards, ensuring you can gift them with convenience and accessibility in mind.
Do Chewy Gift Cards have an expiration date?
No, Chewy Gift Cards typically do not have an expiration date. These gift cards are designed to offer flexibility to pet owners, allowing them to use the card whenever it's most convenient for them to purchase pet supplies or products. This lack of expiration date ensures that recipients have the freedom to shop for their furry friends at their own pace, without the pressure of a looming deadline. It's one of the many reasons why Chewy Gift Cards are a practical and thoughtful choice for pet lovers, providing peace of mind that their gift will remain usable whenever they decide to redeem it.
Can I check the balance of my Chewy Gift Card online?
Absolutely, you can conveniently check the balance of your Chewy Gift Card online. Chewy provides an easy-to-use balance-checking feature on their official website. By visiting the Chewy website and navigating to the Gift Card section, you can enter the card's unique code or number to access the current balance. This online balance-checking option ensures that you stay informed about the remaining funds on your gift card, allowing you to plan your pet supply purchases with confidence and ease. It's a user-friendly feature that adds to the convenience and versatility of Chewy Gift Cards for pet owners and enthusiasts alike.
Can I use a Chewy Gift Card for subscription-based pet supplies?
Yes, you can certainly use a Chewy Gift Card for subscription-based pet supplies. Chewy offers a subscription service called "Chewy Autoship," which allows pet owners to schedule regular deliveries of their pet's essential products, from food to treats and more. Your Chewy Gift Card can be applied toward the cost of these subscriptions, making it a convenient way to ensure your furry friend always has what they need without the hassle of reordering. This flexibility makes Chewy Gift Cards a fantastic choice for pet owners looking for an easy and budget-friendly way to manage their pet's supplies, with the added benefit of gift card convenience.
Are Chewy Gift Cards refundable or transferable to another person?
Chewy Gift Cards are typically non-refundable and non-transferable to another person. Once you've purchased or received a Chewy Gift Card, it's meant for your personal use on their platform. These gift cards are designed to offer convenience and flexibility to the recipient, allowing them to choose the pet products they need. However, it's important to review Chewy's specific terms and conditions, as policies may vary over time. Always ensure to make the most of your Chewy Gift Card by using it for your pet's needs directly on the Chewy website, where you'll find a wide range of pet supplies and products.
Can I reload or add more funds to my Chewy Gift Card?
Unfortunately, Chewy Gift Cards cannot be reloaded or have additional funds added to them once they have been purchased and used. These gift cards are typically intended for one-time use, and their value is fixed to the initial purchase amount. If you've used up the balance on your Chewy Gift Card and want to make additional purchases, you can do so by using other payment methods accepted on the Chewy website. Be sure to check Chewy's official website for the most up-to-date information on their Gift Card policies and usage guidelines.
The merchants represented are not sponsors of the rewards or otherwise affiliated with Earn and Trade. The logos and other identifying marks attached are trademarks of and owned by each represented company and/or its affiliates. Please visit each company's website for additional terms and conditions.